<!- *****HEADERS - CALIFORNIA DESERT PICTURES***** ->

California Desert Pictures
Eastern Sierra and
Anza Borrego Desert State Park



Click the thumbnails for a larger image.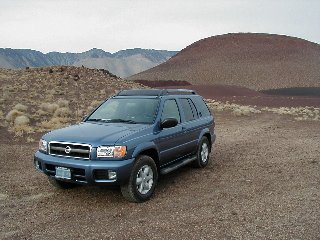 The trip started with a good omen. I left Reno at 5pm and drove until midnight when, after 340 miles, my roadweary eyes spotted the sign to Fossil Falls. Figuring this area for a good camping prospect, I took the dirt road east past the Fossil Falls turnoff, and followed it around behind a hill which would muffle the highway road noise.

I'd found, in fact, an absolutely lovely, flat and private spot. In the morning, the cinder hill behind me lit up in the first dawn light in rich shades of red, gold and black. Finding a good campsite after dark can be a frustrating challenge, but I'd done good - not only comfortable, but highly scenic as well.

Then, as I drank my morning coffee, I looked at a map of the area and found that I'd camped in Rose Valley! From Rose Valley, I headed into frenetic southern California to meet with, and party with, rosarian friends. Eventually that path took me to San Diego, and then - at last - east, back to the desert.

<!- HEADERS - *****ANZA BORREGO***** ->


Anza Borrego
Maps of area



The approach to Anza Borrego that my San Diego friends had suggested was via the mountains on the west side. As I dropped down the rocky escarpment, I immediately started noticing dirt roads that looked enticing, so I continued on down to the flats, and to the visitor center in Borrego Springs to purchase the books and maps I needed to figure my routes.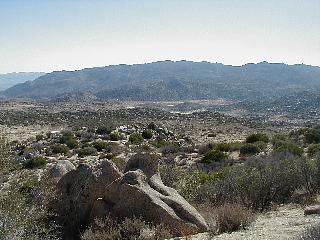 With this strategic loot in hand, I returned up the mountain to the rocky and deserted Culp Valley primitive camp area. This was a perfect spot to toss out the bedding, make coffee and read in the car. With nightfall coming by 5:30pm and dawn around 6:30am, there were always some nighttime hours to fill.

The possibilites of where to go were pretty well endless. In the morning I wandered off on a couple of trails, then moved on.

I drove past the gorgeous place another friend had said he and his wife stay at. I waved to their ghosts, and drove on toward the more remote parts of the park.

The good advice of a wacky yacky ranger at Tamarisk campground steered me toward some southern canyon 4WD routes which went deep into the Carrizo Badlands. So some many miles later, I dropped into the Canyon Sin Nombre, and from there up the Vallecito Creek bed to Arroyo Seco del Diablo.




<!- *****TABLE ONE***** ->

Eventually I entered an area of the arroyo called, as it turned out, Avenue of the Falling Rocks. The reason for this name was apparent when parts of the wash were so filled with debris that the route would divert, in ruts and ridges, from the sometimes deep sand in the wash, up and over the edges of the rock falls.

I passed by the slot canyons - as it was Saturday late afternoon, each had prior visitors or, in some cases, campers. A 2.3 mile cross over route linked mostly sandstone Arroyo Seco del Diablo with mostly mudstone Arroyo Tapiado. The cross over was loaded with unusual sandstone concretions in sculptural shapes, but dark was quickly approaching and it was time to find a good site for the night.

And a mile and a half along the Arroyo Tapiado I found an immensely open spot which gave me the views and feel I sought. A subsidiary wash entered the arroyo just downstream of the site, hence the openness.

<!- *****TABLE TWO***** ->

I did heed the ranger's warning not to hike at dawn or dusk as the arroyos were mountain lion territory and that was their prime hunting time. In the morning I noticed an old but very clear cat print in the long dried mud near my bed.

The peace of this spot was enormous. I climbed to the top of an arroyo wall and thought I'd wait there til the first vehicles came by on this weekend morning. After a long while I came down. It was two more hours before anyone came by.

Eventually my curiosity about all the things I'd found described in my nighttime reading prevailed and I packed up and redrove most of my route, looking for all the things I'd missed, walking all the slot canyons and the main mud cave in Arroyo Tapiado, driving out to the overlooks of the Carrizo Badlands at Diablo Dropoff, and by nightfall set up camp back in the same arroyo but a couple of miles downstream where the amphitheater of the Rainbow Basin completely surrounded me.

My time in Anza Borrego was up. I'd seen one small area fairly well. The vast remainder would have to wait to entice me down again.

<!- HEADERS - *****JOSHUA TREE NP & EAST MOJAVE NSP***** ->


Joshua Tree National Park
and East Mojave National Scenic Preserve
Map of area



And so in the morning the long drive home began. Not the direct route, heavens no! Instead I figured that Joshua Tree National Park and the East Mojave National Scenic Area were right along my route. Well they sort of were, but the interstate would have been a full day faster.

The return took me through Ocotillo Wells Off Road Vehicle Area. The devastation of the unrestricted use was horrifying. Then along the Salton Sea and through Salton City (city??) I've never seen so many places that weren't really places at all, just names and a few campers.

Then I cut across a blank spot on the map between Mecca and Joshua Tree and found myself in the Mecca Hills which, it turns out, is a new Wilderness Area. More places to invite exploration, for another time.

<!- *****TABLE THREE***** ->

The next day I made time for a dirt road Geology tour in Joshua Tree NP, then cruise controlled across the desert to East Mojave. Countless little cookie-cutter shacks - many abandoned and burned - along the 20 mile straight from 29 Palms spoke of a land scheme where people had bought their retirement parcel in the desert for what had once sounded like a great price.

Amboy - farther along that route - was a surpassingly strange place in a deeply strange land. The dry lake bed was heaped with miles of dirt piles, evidently piled there in the collection of calcium chloride. Amboy crater might have made an interesting stop, but lay in the wrong direction.

<!- *****TABLE FOUR***** ->

The road rose up into the East Mojave. Kelso Dunes eventually filled the coutryside to the west, not tall but extensive. A road into the dunes went down on the future places list. At Kelso, an unexpected sight - a beautiful old railroad station which is to be restored as the visitor center for the Scenic Area. I made coffee under the tamarisk trees to fortify for the long night's drive coming up.

With the last of daylight, I reached the massive black cinder cones. I-15 at Baker lay twenty miles down the hill. The interstate might be boring, but at night it is direct and fast. I drove nearly four more hours to justify my messing about on what was supposed to be a purely travel day.

<!- HEADERS - *****AND HOME - Short Canyon***** ->


And Home




<!- *****TABLE FIVE***** ->

The last night was spent two miles up a dirt road, high in a desert canyon on the eastern Sierra. The lights of Ridgecrest lay far below, the highway noise totally swallowed by the distance. As I lay my bedding down by flashlight, I could see the sprouts of spring wildflowers. I had spotted green just south of here on my way down almost three weeks before. Yes, this canyon, practically alone in this very dry year, will bloom this spring.

Morning.
I was now only one long days drive from a shower!

home | email | site index